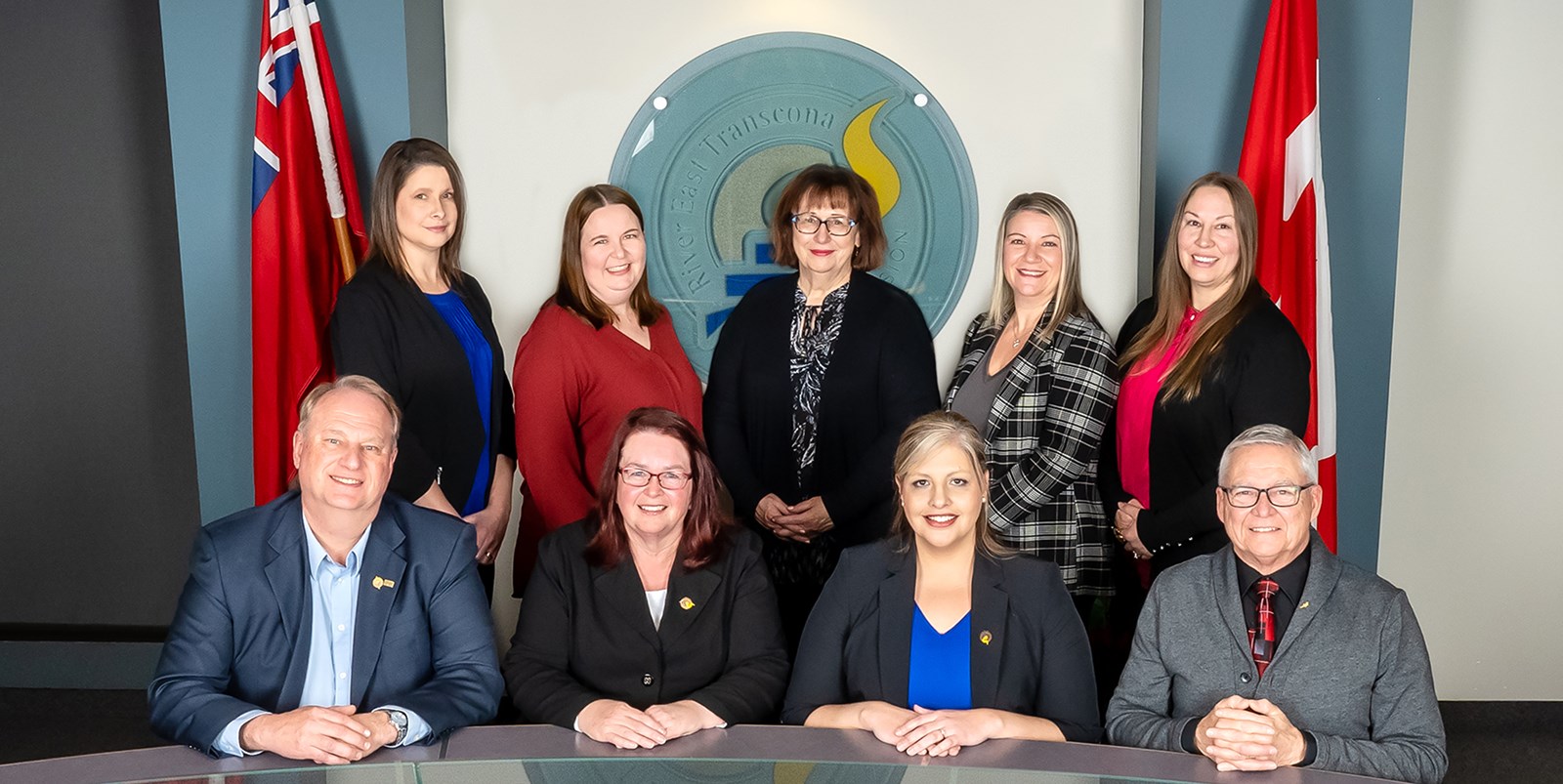 Our board of trustees: (front, left to right) Rod Giesbrecht, Colleen Carswell (chair), Brianne Goertzen (vice-chair), and Keith Morrison; (back, left to right) Shannon Hiebert, Brenda Bage, Susan Olynik, Sheri Irwin, and Sheri Hanson.
Our division is governed by a board of nine trustees who are elected from the community every four years. Trustees have an important governance role in the division and are accountable to the public for the safety, quality, and cost of education via human resource practices, policies, and budgetary decisions.
Public board meetings take place at 6:30 p.m. on the first and third Tuesday of each month during the school year. The board invites the community to attend or listen in on all public board meetings, which are held in person at the RETSD Administration Offices, 589 Roch St., and virtually on Microsoft Teams with links posted on the home page of this website.
Read more at School Boards and Trusteeship in Manitoba.
BOARD PRIORITIES
The board of trustees has identified the following as its priorities for the 2022–23 school year:
Conduct a review of the current communications plan and develop additional strategies to enhance internal and external communications and increase community engagement
Draft policies for the Trustee Code of Conduct and Public Sector Action Plan
Develop a short- and long-term evaluation process for the secretary-treasurer and superintendent
Determine the parameters for a facility review and then conduct the facility review
VIRTUAL BUDGET INFORMATION EVENING
On January 31, 2023, the board of trustees held a Virtual Budget Information Evening with members of the RETSD community. The board provided an overview of the current financial situation of the division, the budget process, and next steps in the budget deliberations amongst the board of trustees and senior administration. To view their presentation, as well as questions posed by the community and answers to those questions, visit: Virtual Budget Information Evening—January 31, 2023
On March 2, 2023, the RETSD board of trustees held a second Virtual Budget Information Evening to provide an update on the impacts of provincial funding to the division, the proposed budget, and explanations related to decisions surrounding efficiencies, reductions, and additions to the 2023–24 budget. To view their presentation, as well as questions posted by the community and answers to those questions, visit: Virtual Budget Information Evening—March 2, 2023
TRUSTEE INFORMATION