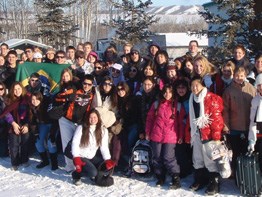 We are regularly looking for local families to host our incoming international students. The most basic of requirements are that a Homestay family would be English speaking, have a house within or near the school division boundaries, and would be able to provide a private bedroom with a window.
We have students from many countries including places such as Germany, Slovakia, Turkey, Czech Republic, Mexico, Brazil, Colombia, Ecuador, Taiwan, Hong Kong, China, Thailand, South Korea, Vietnam, and other countries as well. The students most commonly come for either one full school year or one academic semester (five months). Most of the students that come are in high school, but we do have some students in junior high and a few in elementary school.
See our program guide for more information about the application process and the application form. This information package is also available in print form upon request.
If you have more questions about becoming a Homestay family please feel free to contact us